2019 Business Champion Award winners
McHenry County Economic Development (MCEDC) announced the 2019 Business Champion Award winners at the MCEDC 28th Annual Dinner on November 5, 2019. Over 400 business leaders attended the event with keynote speaker, Thomas Frey, Futurist speaker and Da Vinci institute founder. The evening culminated with the presentation of the 2018 Business Champion Awards.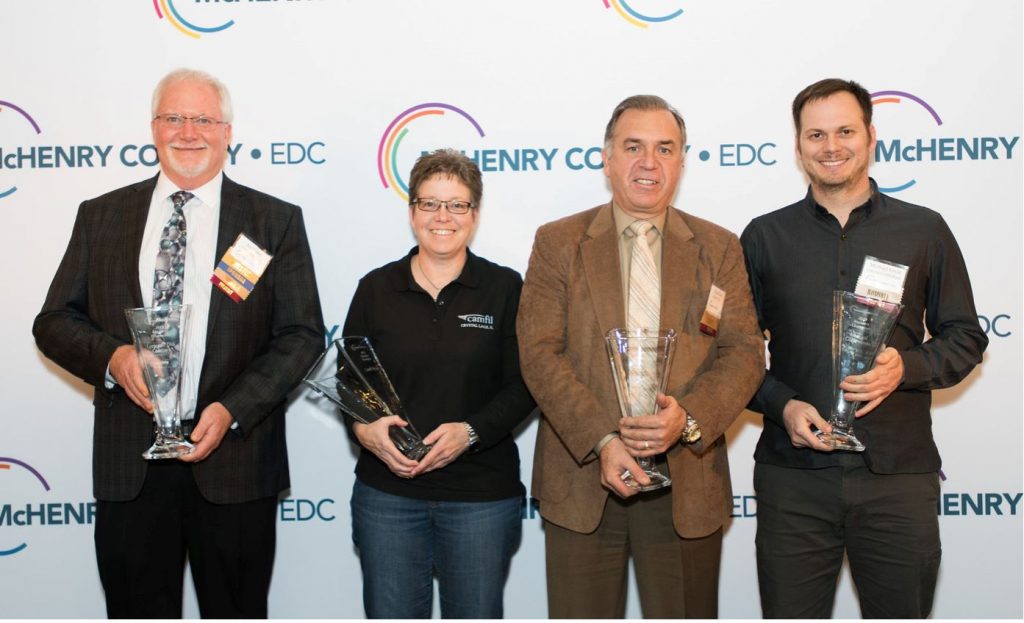 From Left to Right: Joe Foley– Corporate Disk, Patricia Lamberg – Camfil USA, Chuck Duha– Burnex Inc., and Michael Ervin– Ethereal Confections
For the past Twelve years, MCEDC has recognized outstanding companies who have positively contributed to McHenry County's economy and who have exhibited business acumen and vision. Judging is conducted by a panel of independent and unbiased business leaders residing outside of McHenry County. MCEDC President Jim McConoughey, commented "McHenry County is glad to have so many exceptional companies, and to be able to add this year's award recipients to the prestigious list of McHenry County Business Champions ."
In the category of fewer than 24 employees, the 2019 Business Champion award was presented to Ethereal Confections of Woodstock. Founder Michael Ervin accepted the award. Ethereal Confections is a bean- to-bar chocolate and confections manufacturer and café, and was founded in 2011 by owners Sara Miller, and brother and sister, Michael and Mary Ervin. Ethereal recently moved to a new site in Woodstock and now has a food-forward café, as well as a speakeasy and 100-person event space. Where they source local and serve up gluten free friendly, dairy free friendly and soy free friendly food and drink. Ethereal participates in a jobs program for individuals with developmental disabilities. They have also hosted numerous students for internships and hands-on training. Every single one of their chocolate bars is a billboard for McHenry County- they all say "Made in Woodstock, Illinois" – and are enjoyed by tens of thousands if customers nationally and internationally.
In the mid-size company category of 25 to 100 employees, Burnex Corporation of Ringwood received the award. Burnex Corporation is a world-class leader in manufacturing of precision metal stampings, wire forms, and intricately designed custom and standard metal parts for a wide range of industries and applications. The company is in the process of adding a 21,000 square foot addition to their existing building, bringing their total square footage to approximately 55,000 square feet Burnex is involved in a concerted effort to increase involvement with trades along with other county manufactures and McHenry County College, to address a long-term fix to the industry problem of attracting youth. Manager Chuck Duha accepted the award.
In the large category of companies that employ 101 to 299 employees, the 2019 Business Champion award was presented to Corporate Disk of McHenry. Joe Foley Client Experience Officer accepted the award. Since 1984, Corporate Disk Company of McHenry, known to their clients as DISK or DISK.com, has delivered inspiration and specialized knowledge for their clients by providing printing, manufacturing and fulfillment solutions in the form of manufacturing & duplicating media- such as CD's/DVD's/USBs, all different types of printing, packaging, and other related product sourcing. They manage critical client projects, product launches, handle daily product fulfillment for our clients, and distribute their clients' products directly to their customers all around the world. Corporate disk recently expanded into a second facility in McHenry and now has 175,000 square feet, and ships 15,000 products a day to end users around the world.
In the category of over 300 employees, the award went to Camfil USA. Located in Crystal Lake, Camfil USA is a world leader in the development and production of air filters and clean air solutions providing best-in-class air filtration products and services within four main segments: Comfort Air, Clean Processes, Power Systems and Safety & Protection. Headquartered in Stockholm, Sweden they have 3,800 employees and sales over $760 million worldwide with 26 production units and R&D centers in four countries in the Americas, Europe, South East Asia and the Asia-Pacific region. Due to its significant growth, Camfil has invested $11 million in the Crystal Lake facility. They have expanded their facility by 50%, creating 135 new jobs, and implemented six new product lines. Camfil produces a wide range of products, from molecular filters to fan filter units at the Crystal Lake location. International markets account for 95% of Camfil's sales.
MCEDC congratulates all of our business finalists their leadership and our 2019 Business Champions Ethereal Confections, Burnex Corporation, Corporate Disk, and Camfil USA.