McHenry County EDC 2015 Business Champions!
2015 Business Champion Awards Announced
McHenry County, IL – McHenry County Economic Development (MCEDC) announced the 2015 Business Champion Award winners at the MCEDC Annual Dinner on October 27, 2015. Over 400 business leaders attended the event which culminates with the Business Champion Award presentations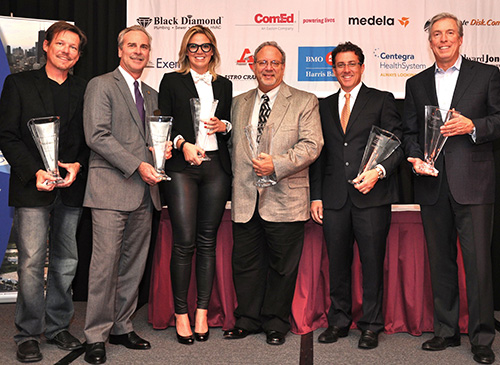 Pictured L-R: Mike Littrell – CIDEAS, Steve Slack – Home State Bank, Patricia Miller – Matrix IV, Rick Sperando – Black Diamond Plumbing & Mechanical, Lance Rosenmayer – Intren, Scott Brown – Sage Products
For the past eight years, MCEDC has recognized outstanding companies who have positively contributed to McHenry County's economy and who have exhibited business acumen and vision. Judging is conducted by a panel of independent and unbiased business leaders residing outside of McHenry County. Pam Cumpata, President of MCEDC commented "McHenry County is fortunate to have so many outstanding companies. This year, we had 29 nominations and 16 Business Champion Finalists.
The 2015 Business Champions were presented their awards by Brik Eyre, Baxter US Corporate Vice President and President Hospital Products, and keynote speaker at the Annual Dinner and by Mark Saladin, MCEDC Chairman of the Board and Pam Cumpata, President MCEDC.
Steve Middaugh of Edward Jones Investments and chairman of the Business Champions Task Force announced the first award for companies with less than 24 employees. He noted that the winning company epitomizes the word innovative with their dedication to remaining on top of ever changing technological advances through the acquisition of new equipment and software. This company opens its doors to area high schools thru "Project Lead the Way" providing opportunities for on-site learning. Visionary, risk taker, innovator are words that describe this company and owner.
The winner in this category was CIDEAS of Crystal Lake. Accepting the award was Mike Littrell, President. CIDEAS is the largest 3 D printer and rapid proofing engineering firm in the tri-state area serving a large and diverse clientele from manufacturers, to hobbyists to the movie industry.
In the mid-size company category of 25 to 100 employees there was a statistical tie. The first award went to a business who has been in McHenry County for over 40 years. They faced a financial crisis that reached a tipping point in 2014 when a family member returned to the area and instituted a revitalization plan with cutting edge technology. They repositioned themselves as a design and marketing house to meet design, engineering, tooling and manufacturing needs of its clients. As with many McHenry County companies, this winner also opened its doors to area high schools for internships
Middaugh congratulated Matrix IV of Woodstock. Accepting the award was Patricia Miller, CEO and owner since 2014. Cumpata commented that through the leadership of Patricia Miller, her grandfather's company has grown from a struggling company to a $3 Million company today embracing the idea that they don't "just do production" but are holistic in their manufacturing approach.
Also receiving an award in this mid-level category was a company who is noted for its exceptional customer service and solid acquisitions. This company grew at a double digit pace which brought on many challenges such as facility constraints. Less than 60 days ago, this award winner moved into a larger facility in McHenry County and we look forward to their continued success. A common theme of the Business Champions, this company also believes in giving back to the community…their strong commitment is known throughout various high school projects, scholarship programs, not-for-profits and charities. Middaugh introduced Rich Sperando, President of Black Diamond Plumbing & Mechanical who accepted the award. Black Diamond provides plumbing, sewer, electric, heating and air conditioning servicers, known for being available 24 hours a day, they ALWAYS answer the phone, day or night.
In the large category of companies that employee 101 to 299 employees, the 2015 Business Champion award went to a company that has made McHenry County home for many, many years. Known as a hub of the community, their corporate philanthropy includes financial as well as volunteer support of such not-for-profits as United Way of McHenry County, Friends of MCC Foundation, Salvation Army, Turning Point, the Raue Center and many more. Faced with challenges during the recession, this company continued to work with its customers to provide support and assistance. Celebrating their 100th Anniversary, the MCEDC announced Home State Bank as a 2015 Business Champion. Accepting the award Steve Slack, President and CEO.
In the category of over 300 employees, MCEDC presented two awards – one for a publicly traded business and one for a privately held business. The first award went to a company that has developed and executed industry solutions that involve most residents and businesses. It is committed to providing workforce training and job opportunities and its Leadership believes that Stewardship is the cornerstone of their company and that this belief has helped this company thrive for more than 25 years. Driven by their core values of safety, integrity, customer focus and employee empowerment, this company's vision is to "Out Perform Every Day". Known through McHenry County as a company who believes in making a difference, they partner with a myriad of organizations such as Big Brother Big Sisters, Pioneer Center for Human Services, United Way of Greater McHenry County, Family Health Partnership, CASA of McHenry County and many others. Middaugh congratulated INTREN of Union. Accepting the award was Lance Rosenmayer, President. Middaugh commented that Intren is a leader in the design, development, construction and management of solutions for many of the country's foremost utility companies, private contractors and developers, municipalities and cooperatives.
The second award in the over 300 category went to a company that has been described as innovative, committed, giving, the place everyone wants to work. Their culture is core to their mission and vision which unifies all employees with a common value of "Keeping it Personal" It's the company's way of expressing the importance of fostering real and valuable connections. Those personal connections fuel the passion and belief in the power of the products they invent and manufacture.
In 2012, this company was acquired by Madison Dearborn Partners and since that time has continued to grow and expand both domestically and internationally. That growth has also fueled new jobs in McHenry County with 100 in 2014 and on pace for another 100 in 2015.
The business is only part of "Keeping it Personal" this company has a strong commitment to the community through volunteering, Not for Profit board participation, Leadership Greater McHenry County, Sage YMCA and many more.
Sage Products of Cary was the 2015 Business Champion award winner. Accepting the award for Sage Products was Scott Brown, President and CEO.
McHenry County Economic Development Corporation congratulates all of the 2015 Business Champion Finalists: JA Nationwide, Inc.-McHenry, Used CNC, Inc.-Huntley, Charles Herdrich & Sons- McHenry, Countryside Flower Shop, Nursery & Garden Center-Crystal Lake, CRV Electronics-Spring Grove, Jessup Manufacturing Company-McHenry, Dean Foods-Huntley, General Kinematics-Crystal Lake, TEQ-Huntley and our 2015 Business Champions C-Ideas-Crystal Lake, Black Diamond Plumbing & Mechanical, Inc.-McHenry, Matrix IV, Inc.-Woodstock, Home State Bank-Crystal Lake, INTREN-Union and Sage Products-Cary.