McHenry County EDC 2013 Business Champions!
McHenry County Economic Development (MCEDC) announced the 2013 Business Champion Award winners at the MCEDC Annual Dinner on November 5, 2013. Over 400 business leaders attended the event which culminates with the Business Champion Award presentations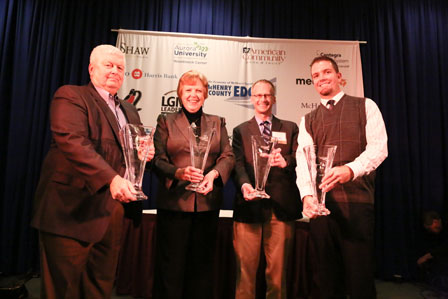 Pictured L-R: Bill Lewis, Advanced Flexible Composites, Lake in the Hills, Sandra Pierce, Phoenix Woodworking, Woodstock, Karl Schult, Covidien, Crystal Lake, and Nathan Frost, Watlow, Richmond.
For the past six years, MCEDC has recognized outstanding companies who have positively contributed to McHenry County's economy and who have exhibited business acumen and vision. Judging is conducted by a panel of 9 independent and unbiased business leaders residing outside of McHenry County.  Pam Cumpata, President of MCEDC commented " McHenry County is fortunate to have so many outstanding companies. There were 15 business champion finalists." The 2013 Business Champions were presented their awards by Harry Kraemer, (Board Member of Sage Products, LLC, Executive Partner, Madison Dearborn Partners, Clinical Professor of Management and Strategy, Kellogg School of Management, Former Chairman and CEO of Baxter International) keynote speaker at the Annual Dinner and by Gary Overbay, MCEDC Chairman of the Board.
Phoenix Woodworking, Huntley was selected in Category 1 (less than 25 employees). Faced the many challenges of the recent recession, this company worked hard to keep everyone employed by reducing hours and using downtime to provide training and build on certifications. Sandra Pierce, President, accepted the award. Cumpata noted that Sandra not only has an outstanding company, but she is active leader in many organizations and a long time investor/member in MCEDC.
In the mid-size company category of 25 to 100 employees, Advanced Flexible Components, Lake in the Hills, is the 2013 Business Champion. This company is a family owned business who really believes in family. They have been in business in McHenry County for over 25 years, have had double digit growth and grown their businesses into a multi-site facility. Cumpata noted that not only were they a family owned company, but they believe in hiring family members – brothers, sisters, husband/wife, etc. and have found it to provide a stable work environment. Bill Lewis, President accepted the award with Vice President Dale Lewis cheering him on.
Watlow of Richmond is the winner in the category 100 to 299 employees. This company was nominated by an employee who began as a temp employee in 1993 and who wanted to recognize the tremendous employee support and training this company provides.   Cumpata commented that this company has a culture that recognizes the employees as team members and provides them with on-site education opportunities to help them develop and grow professionally. They have been a strong partner with MCEDC in its effort to help inspire young people to go into manufacturing as a career. Nathan Frost, Director of Operations accepted the award on behalf of the entire team.
In the category of over 300 employees, the judges had quite a challenge since all of the nominees were exceptional companies who bring value to McHenry County. Karl Schult, Engineering Manager accepted the award for Covidien of Crystal Lake. This company has invested over $17 million in capital over the last four years, developed an initiative which prevented over 6 million pounds of scrap from entering landfills, relocated a subsidiary from Texas to Crystal Lake, increased employment by approximately 100 jobs and developed a new intern program with a local high school. Pam Cumpata commented that Covidien is another strong partner in helping to encourage young people on the value of STEM (Science, Technology, Engineering and Math) education.
McHenry County Economic Development Corporation congratulates all of our finalists: Effective Product Solutions – Lake in the Hills, Radicom – McHenry, Tegel Design – Huntley, Camfil – Crystal Lake, Eisenmann – Crystal Lake, Haiges Machinery – Huntley, Kold Ban International Ltd – Lake in the Hills, Curran Group, Crystal Lake, H.S. Crocker – Huntley, Aptar Group-Crystal Lake, Knaack LLC – Crystal Lake and our 2013 Business Champions – Phoenix Woodworking, Advanced Flexible Composites, Watlow and Covidien.