MCEDC announces 2021 Business Champion Award winners
McHenry County Economic Development Corporation (MCEDC) announced the 2021 Business Champion Award winners at the MCEDC Annual Dinner on November 10th, 2021. Over 450 business leaders attended the event highlighted by keynote speaker, John Cain, CEO, Scot Forge. The evening culminated with the presentation of the 2021 Business Champion Awards.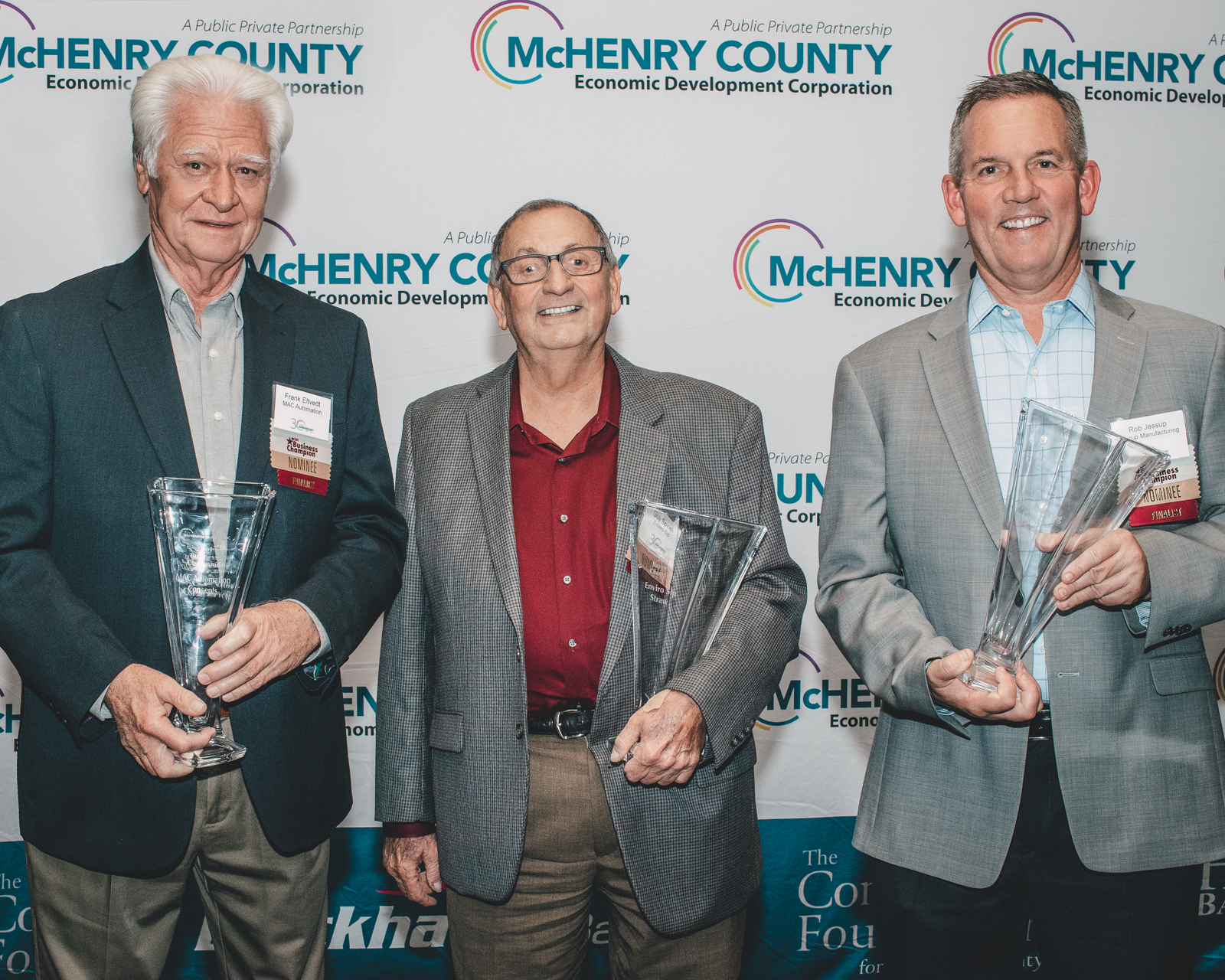 The McHenry County Economic Development Corporation announced its 2021 business champion award winners on Wednesday, Nov.10, 2021. (Kelsey Adams K-Adams Foto)
McHenry County businesses are making strides both economically and intellectually in fields as diverse as reusable straw design, bottling automation for hand sanitizer, health care and finance, while also adjusting their operations to the market created by the COVID-19 pandemic.
In recognition of some of their achievements, a group of 14 of those local businesses were announced Wednesday night as the McHenry County Economic Development Corporation's finalists for its 2021 Business Champion Awards
Many of the finalists were acknowledged for their ability to pivot amid the COVID-19 crisis and start providing assistance to their employees, customers and clients by helping distribute federal emergency relief and stimulus funding, and starting or increasing the manufacturing of items to combat the virus like face masks and parts used in ventilators, among other products.
Here are the business champion winners and why they were recognized by the McHenry County Economic Development Corporation.
The winner in the category for companies with fewer than 25 employees was Enviro Sip Straw of Woodstock, which was recognized for developing a new kind of paper specifically for straws.
Guy Spinelli founded Enviro Sip Straw, in part, because it takes 200 years for a plastic straw to disintegrate and paper straws disintegrate too fast in liquid. The new straws are non-toxic, dye free and won't disintegrate in beverages, but will in a land fill.
Finalists included Scholl Construction Company and Smith Physical Therapy & Running Academy, both of Crystal Lake.
MAC Automation of Woodstock was the winner in the category for companies with 25 to 100 employees.
MAC Automation made fabric face coverings, mask protectors and cloth scrub caps for local frontline workers. MAC offered them to local businesses and nonprofits at cost and placed a bulk order for 28 local organizations. They also offered local business to buy scrap Lexan pieces to retrofit their stores with safe shopping barriers.
Finalists were Autotrol Corporation of Crystal Lake, Crystal Lake Bank & Trust of Crystal Lake, Prairie Community Bank of Marengo and Dordan Manufacturing Inc. of Woodstock.
The winner in the category for companies with 100 to 300 employees was Jessup Manufacturing of McHenry.
Jessup specializes in adhesive coated and laminated materials, luminescent films and sheets, and safety and visual warning products. It shifted to pandemic-related production, making a large proportion of materials used for graphics instructing social distancing. It donated thousands of rolls of material to hospitals, labs and vaccination sites, and bought $7,500 worth of gift cards from local restaurants and businesses chosen by its employees to donate to food pantries.
The runner-up was Superior Felt & Filtration of McHenry.
The winner in the category for companies with more than 300 employees was Northwestern Medicine McHenry Hospital of McHenry.
Northwestern Medicine McHenry Hospital provided the necessary workers, testing and beds during the health crisis to meet the demand and need. The staff worked overtime to meet the needs of the community. Northwestern completed remodeling of a worksite into a dedicated classroom space and intern training for Project Search, a program that prepares young people with significant disabilities for success in employment.
Finalists were Aptar of Crystal Lake, Medela Inc. of McHenry and Woodstock Sterile Solutions of Woodstock.
Congratulations