Congratulations to Our 2017 Business Champions!
McHenry County Economic Development (MCEDC) announced the 2017 Business Champion Award winners at the MCEDC Annual Dinner on November 7, 2017. Over 425 business leaders attended the event with keynote speaker, Diane Hendricks of ABC Supply Company.   The evening culminated with the presentation of the 2017 Business Champion Awards.
For the past ten years, MCEDC has recognized outstanding companies who have positively contributed to McHenry County's economy and who have exhibited business acumen and vision. Judging is conducted by a panel of independent and unbiased business leaders residing outside of McHenry County.   Jamie Maravich, Chairman of the MCEDC Board of Directors "McHenry County is fortunate to have so many exceptional companies who not only have outstanding business expertise, but also give back to our community in so many ways."
In the small category of up to 24 employees – the award was presented to Utility Business Media of Crystal Lake. This woman owned business started as a simple newsletter to educate and share safety information in 2004. During the last five years, it has grown fivefold and has a large reach throughout the industry sectors of Electric Utilities, Power Generation, Electric & Gas, Municipalities, Government, Communication Providers, and Utility Contractors. Like many other small businesses, they faced challenges but always kept their employees in mind and believe in hiring for potential. Accepting the award was CEO and President Carla Housh.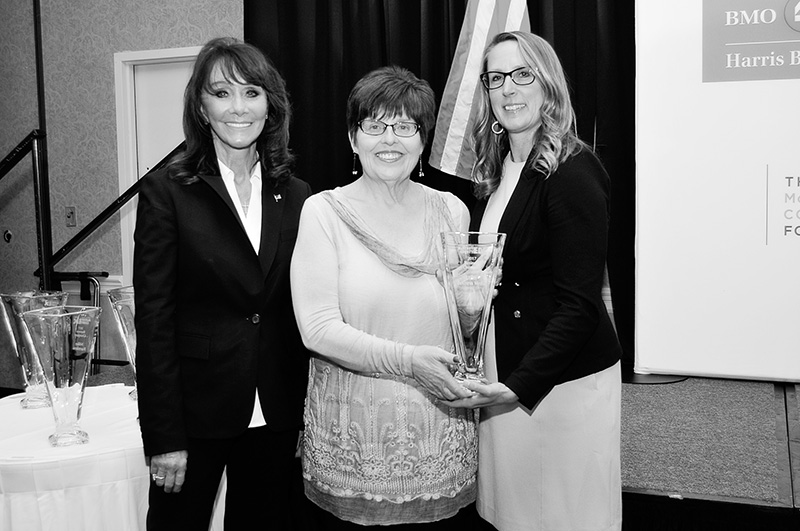 Diane Hendricks ABC Supply, Carla Housh UBM, Pam Cumpata, MCEDC
Richardson Farm of Spring Grove, received the first MCEDC Business Champion award recognizing an Agri-tourism company. This family owned business, originally homesteaded in 1836 as a 240 acre farm, today includes 544 acres and 2 farmsteads. They offer year-round opportunities for families to create memories in a rural setting including Illinois' largest corn maze (28 acres), a fall adventure farm, over 50,000 Christmas trees and special events in the summer. They market to a very large area from Chicago to Rockford to Milwaukee and bring in millions of dollars in revenue from outside the county. Two generations of the Richardson family and their spouses own and work on the farm and are proud to be a part of McHenry County's $238.97 million tourism sector.
George & Wendy and Robert & Carol Richardson accepted the award.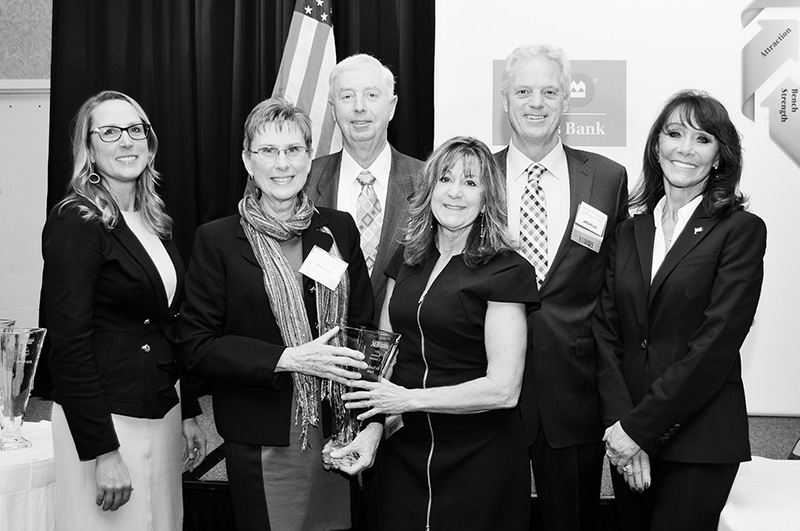 Pam Cumpata, Carol, Robert, George, Wendy Richardson, Diane Hendricks.
In the mid sized category of 25 to 100 employees, was awarded to Miller Formless of McHenry. This family owned business was founded over 50 years ago, by Chuck Miller, a true pioneer in the industry and inventor of automated paving systems for the construction industry. Recently, Mr. Miller sold his business to a longtime friend of the family who also had strong ties to the community and shared the same company values and philosophy of believing that their employees are there's most important asset. John Smith, principal and Co Owner and Scott Smith, CEO are known and bring engineering acumen to the company. John Smith, Jim Szamlewski and Terry O'Connor accepted the award.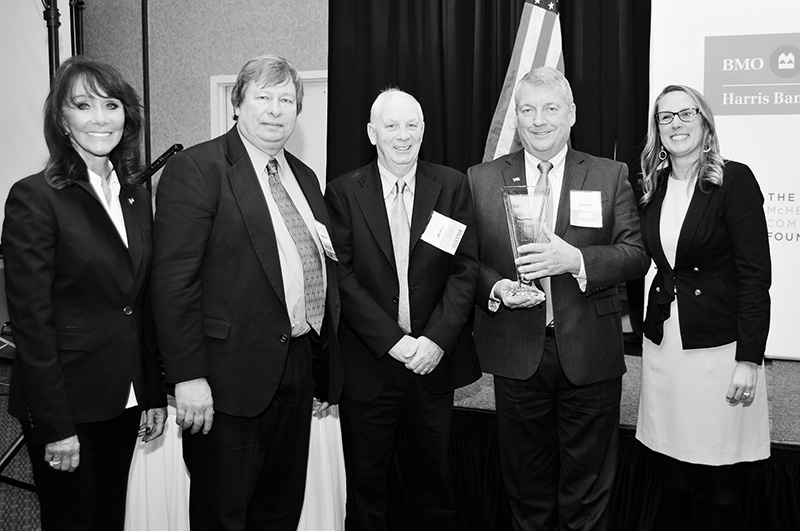 Diane Hendricks, Jim Szamlewski, President, Terry O'Connor, Plant Manager, John Smith Owner, Pam Cumpata.
In the Large category over 100 employees, H.S. Crocker Co., Inc. of Huntley was the recipient. This company provides high quality printing and die cutting services for the food and pharmaceutical industries. An ESOP (employee owned company), it's employees share in and participate in the company's decision making process. They offer employee health clinics, promote wellness in the workplace and seek to employ individuals that have been unemployed primarily in the sector of those ages 45 and above. They are a green company and recently spent over 25 million in capital investment and expansion.
President Ron Giordano accepted the award.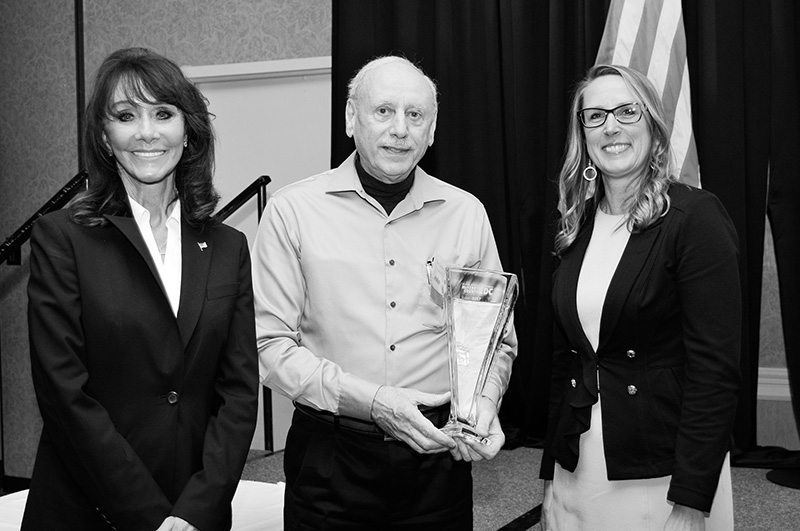 Diane Hendricks, Ron Giordano, Pam Cumpata
The final award of the evening for the over 300 employees' category, was presented to Brake Parts Inc., McHenry. This company is the largest distributor of automotive aftermarket products specializing in brake pads and parts and supplying all major automotive brands such as Napa, Carquest, and Auto Zone, etc. Like many of our Business Champions, BPI has a strong history of supporting those in need, whether it be in our community or across the country. It recently donated over $25,000 to the Red Cross to support hurricane relief efforts. For over a decade it has been a strong supporter of United Way of Greater McHenry County and it has been its largest contributor raising $100,000 or more during the last four years. This year, it surpassed that milestone raising $168,000. David Overbeeke, President and CEO accepted the award.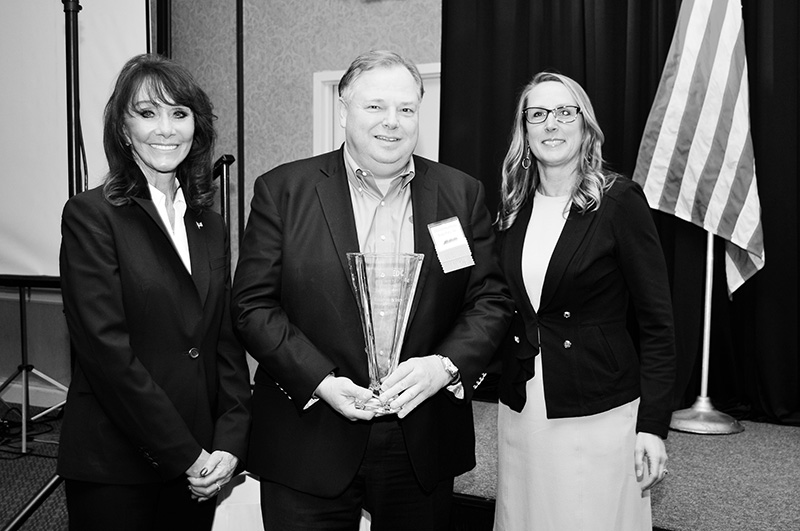 Diane Hendricks, David Overbeeke, Pam Cumpata
McHenry County EDC congratulates all of our finalists and the 2017 Business Champions!