2018 Business Champion Awards Announced
McHenry County Economic Development (MCEDC) announced the 2018 Business Champion Award winners at the MCEDC 27th Annual Dinner on October 23, 2018. Over 350 business leaders attended the event with keynote speaker, Mark Peterson, CEO of Intersect Illinois. The evening culminated with the presentation of the 2018 Business Champion Awards.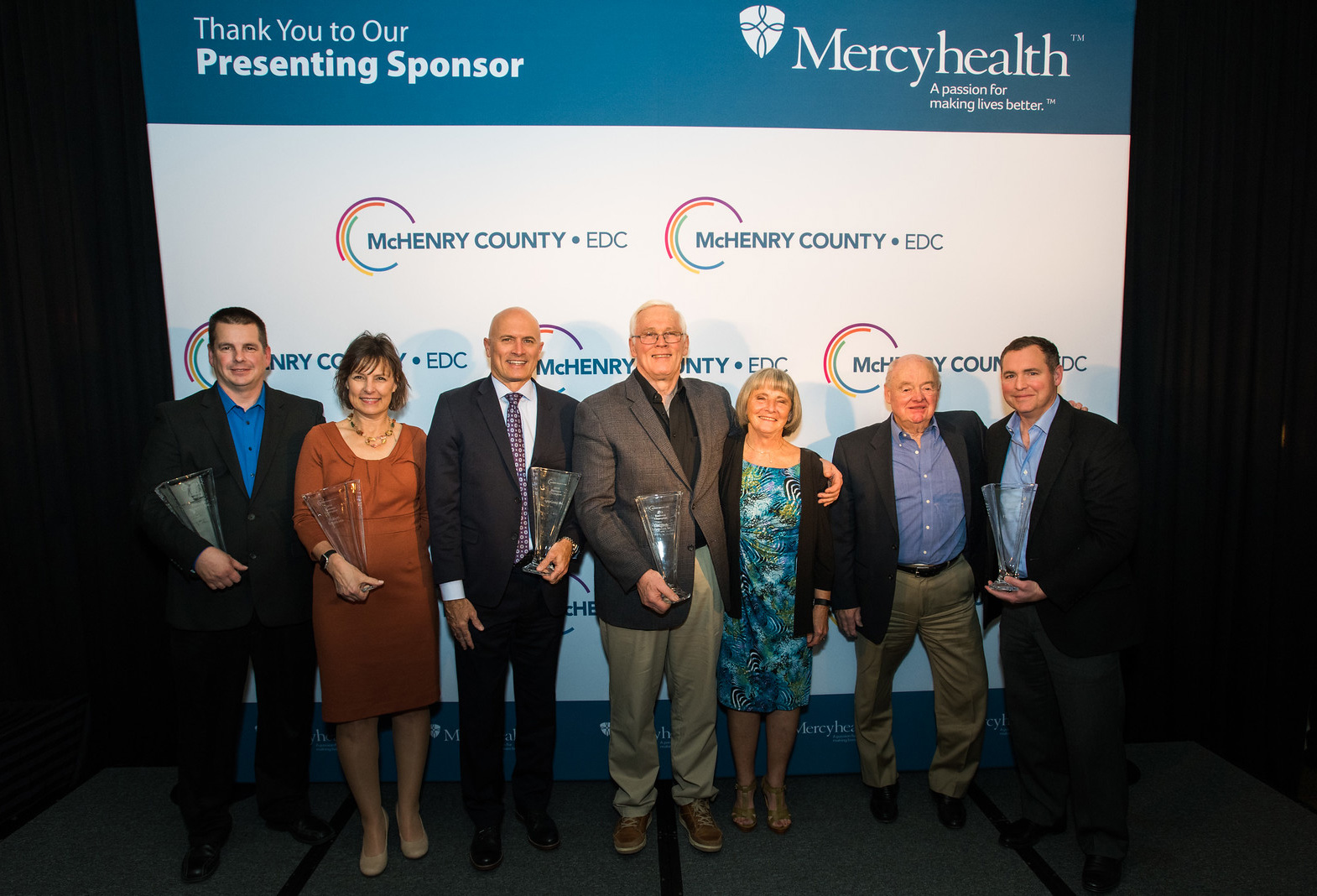 From Left to Right: Rich Edwards – Precision Waterjet, Barbara Kreutzman – Follett School Solutions, Matt DellaMaria – AptarGroup, Tom Dougherty, April Dougherty – Dougherty Enterprises, Richard Ballott, Stephan Ballott – FLOCON Inc.
For the past eleven years, MCEDC has recognized outstanding companies who have positively contributed to McHenry County's economy and who have exhibited business acumen and vision. Judging is conducted by a panel of independent and unbiased business leaders residing outside of McHenry County.   Jim McConoughey, President of the MCEDC commented "McHenry County is fortunate to have so many exceptional companies who not only have outstanding business expertise, but also give back to our community in so many ways."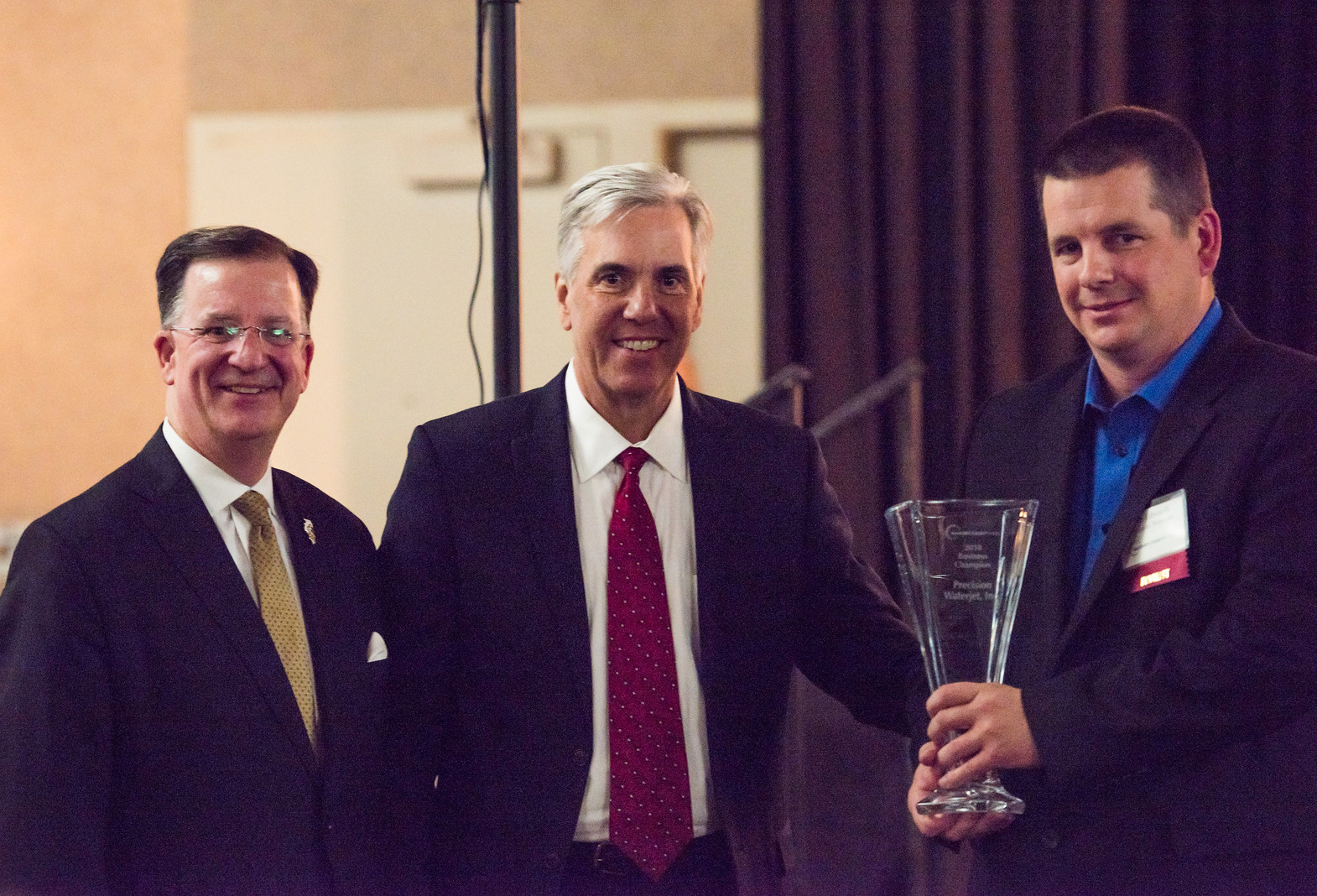 In the category of fewer than 24 employees, the 2018 Business Champion award was presented to Precision Waterjet of Crystal Lake. President Rich Edwards accepted the award. Precision Waterjet is currently one of the top three precision cutting companies in the country.  Known for their detailed precision work, they provide their customers with both water and laser cutting services for a wide range of materials, including metals, plastics and laminated materials. With their recent move into a new facility in Crystal Lake, they will be able to expand their capabilities and services.  In the last 2 years, they have almost tripled the amount of product that runs through their shop and in the next 5 years they plan on doubling their current business sales., they are an outstanding business deserving of recognition.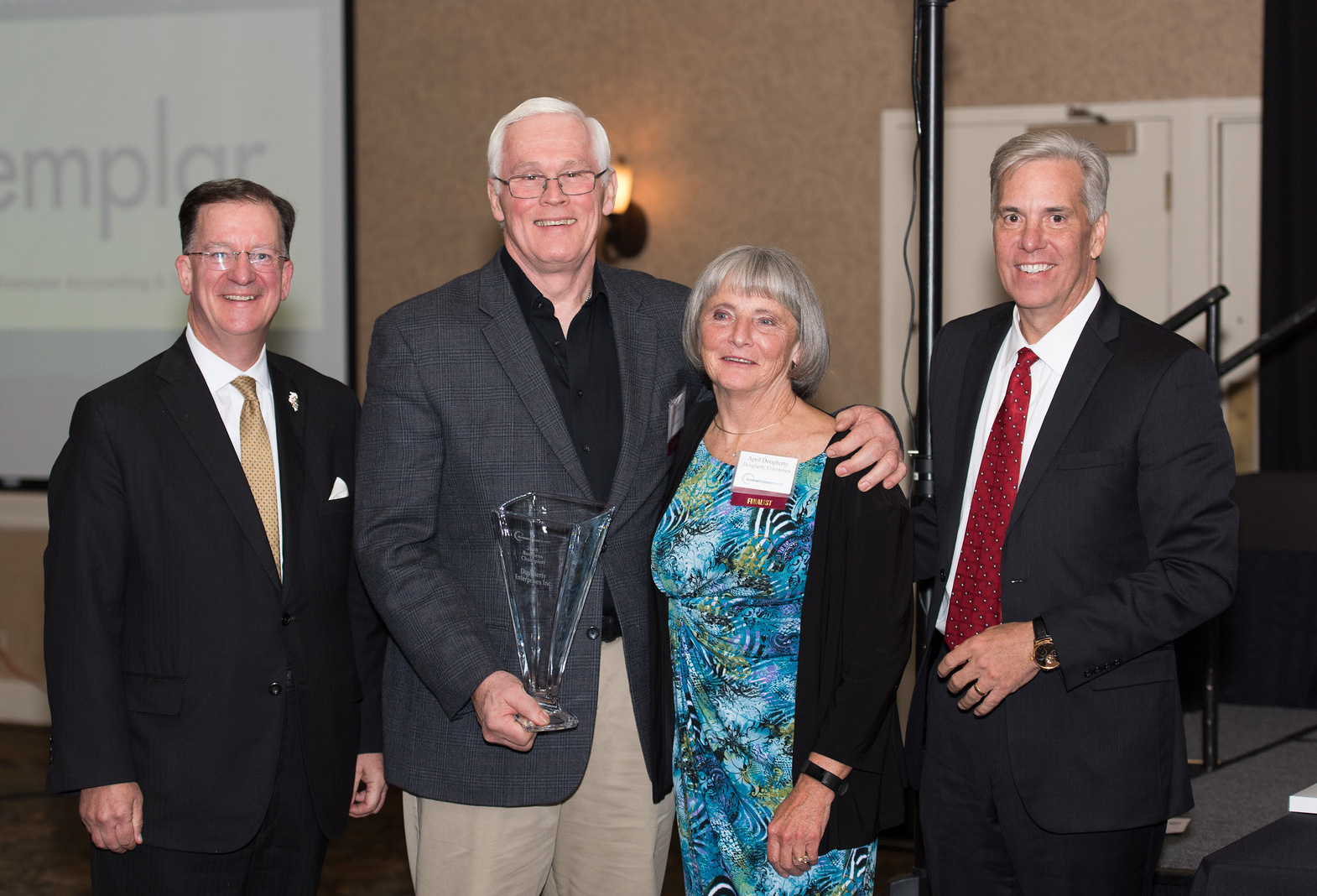 In the mid-size company category of 25 to 100 employees, Dougherty Enterprises of Woodstock, a family owned company which began in a garage, received the award Dougherty Enterprises is a manufacturer of fine jewelry which includes its Studio 2015 retail store.  The company now occupies a state-of-the- art manufacturing facility as well as an attractive and multi-use retail outlet. Specializing in custom jewelry design and keepsake jewelry to the bereavement community, the company has over employees and manufactures and distributes between 1,800-2,500 pieces per week nationwide.  Through research and development, they developed a process for creating full-cast molds, a 7-day production turnaround, and a mass production process for quick turnaround – both of which are unique to the industry. President & CEO Tom Dougherty accepted the award.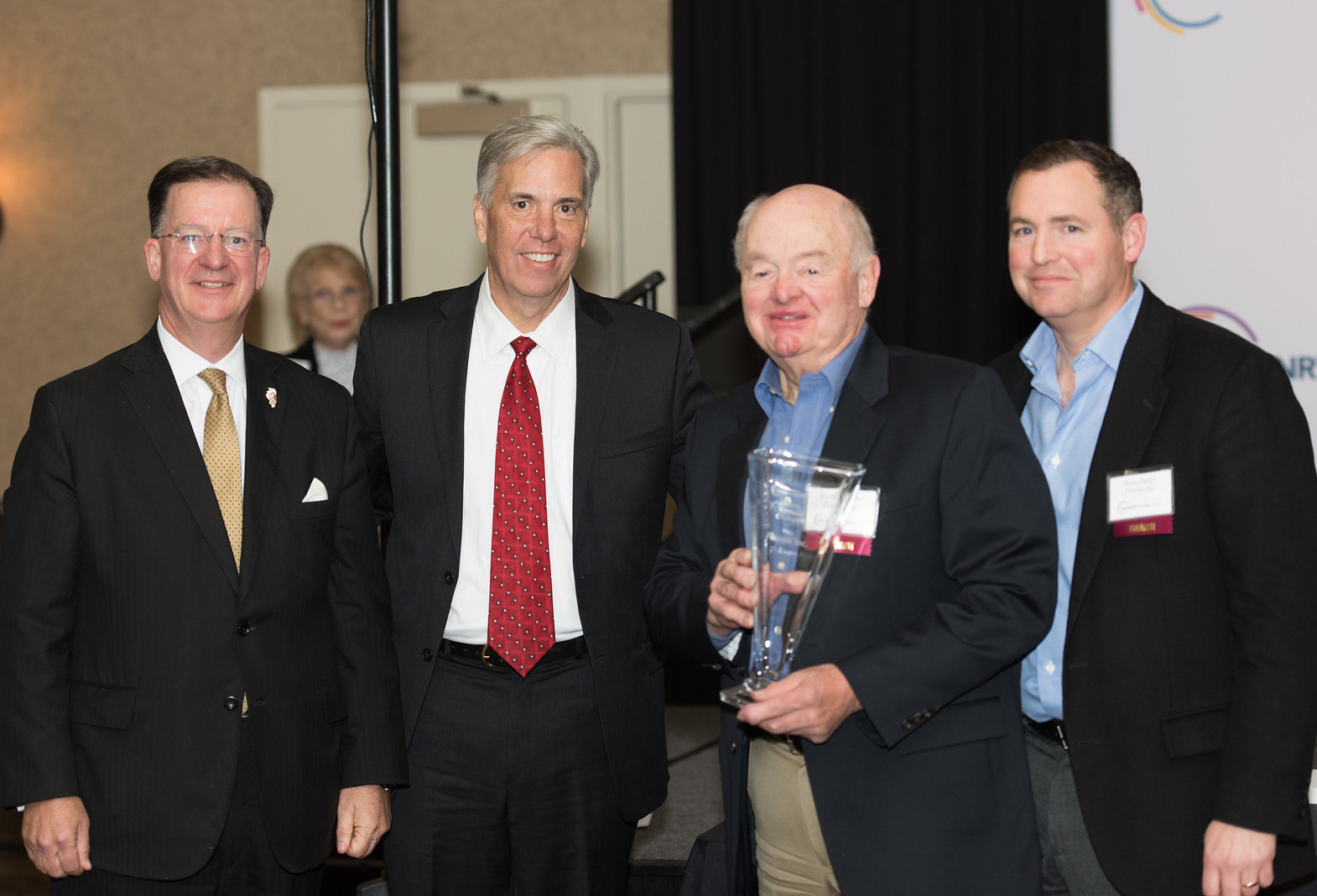 In the large category of companies that employ 101 to 299 employees, the 2018 Business Champion award was presented to FLOCON, Inc. of Woodstock. Richard W. Ballot, President & Founder accepted the award. FLOCON Inc. manufactures fluid dispensing systems, such as fine mist sprayers, lotion pumps, and valve-actuated dispensing pens. FLOCON has called McHenry County home since 1998. In an effort to expand their capabilities for research and development, engineering, manufacturing, marketing and sales, they recently moved into a 58-acre campus in Woodstock. The majority of FLOCON's equipment, tools and components are made in McHenry County, and their move has helped them streamline logistics, allowed for better service to their customers, take on new business and improve collaboration on new programs in development.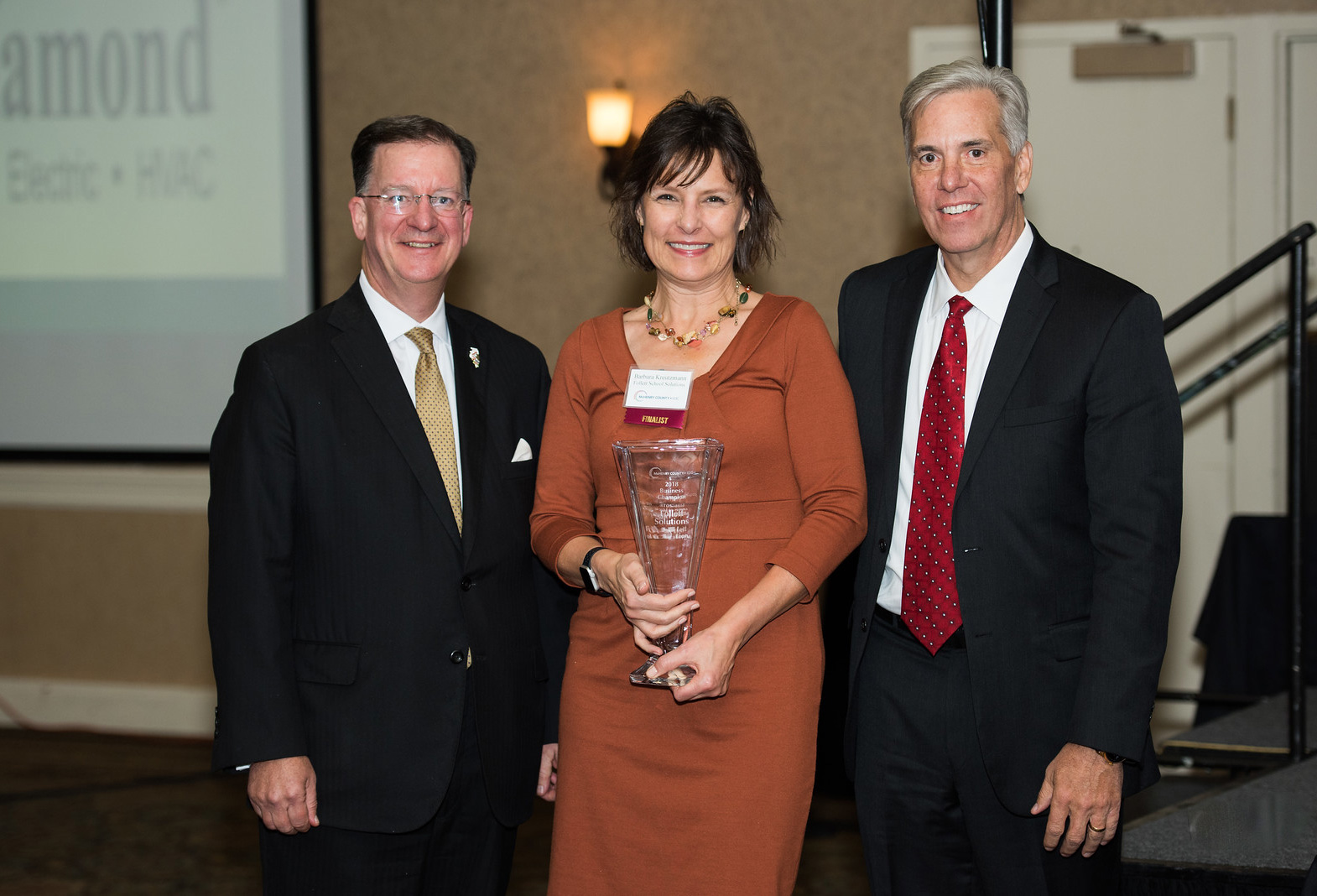 In the category of over 300 employees, MCEDC presented two awards – one for a privately held business and one for a publicly traded company.  The first award went to Follett Solutions of McHenry.  Follett School Solutions is a 5th generation family business and an international leader in providing educational/technological services using print and digital content serving all levels of education, pre‐k through higher education.  They operate 1,200 campus stores and more than 1,600 virtual stores.   They are socially responsible company and an exemplary corporate citizen with the ability to see the next great innovative learning concept technique or idea; capture it; design it; build it; produce it and bring it to market because they foster a culture which allows this to happen organically from the inside out. Barbara Kreutzmann, Human Resources Business Partner accepted the award.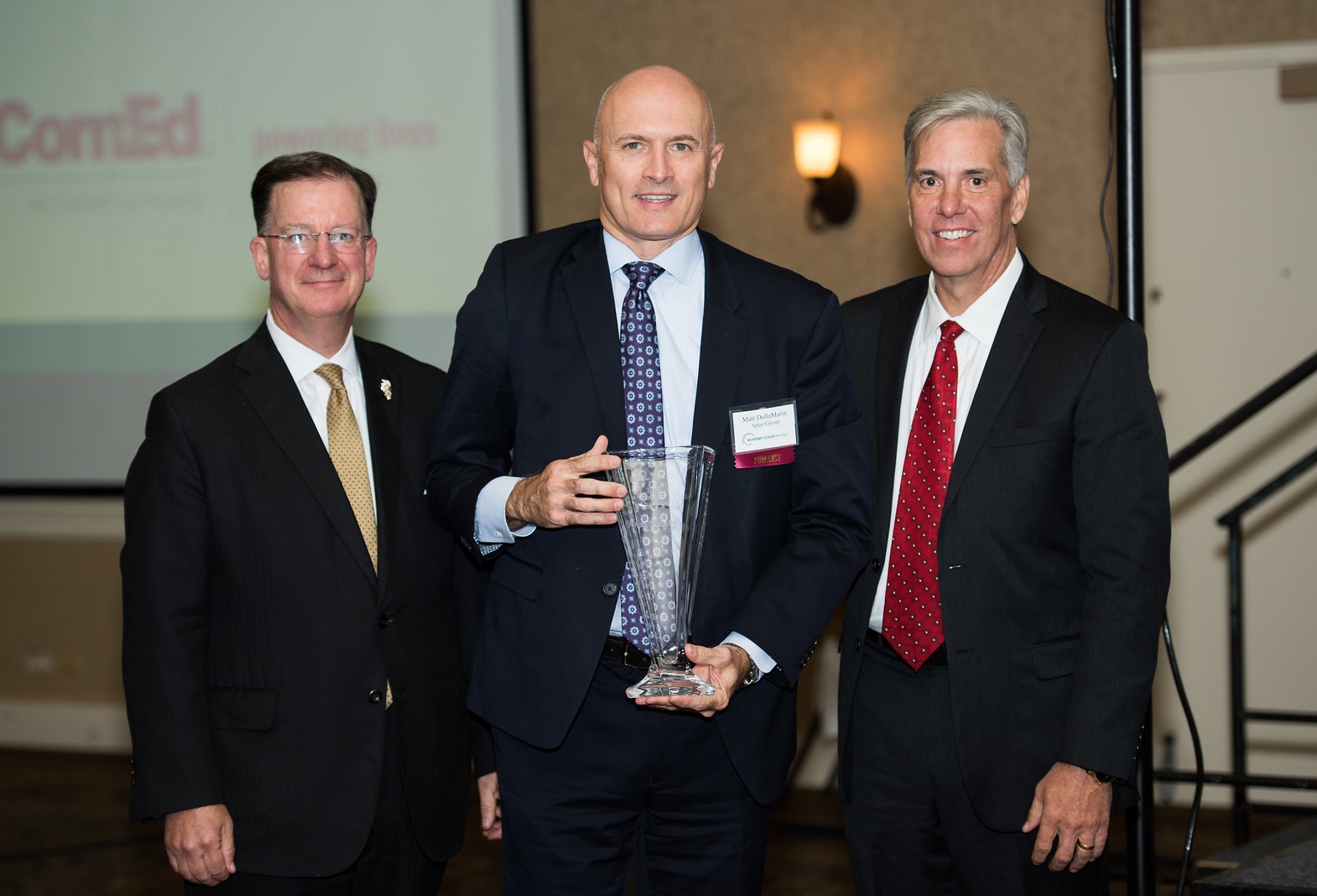 The second award in the over 300 categories was presented to Aptar Group of Crystal Lake. Matt DellaMaria, Senior Vice President, Investor Relations and Communications accepted the award. Aptar has over a half a century of experience operating in the ever-changing consumer packaging world. They are a unique customer and shareholder focused company listed on the New York Stock Exchange, with proprietary knowledge, technical expertise, broad product range, with 13,000 dedicated employees and a manufacturing presence in 18 countries. Aptar makes dispensing systems for the beauty, personal care, home care, food, beverage, prescription, consumer health care and injectable markets. Aptar recently moved their company headquarters from Terra Cotta Drive to 265 Exchange Drive in Crystal Lake where their corporate functions such as Human Resources, Legal, Finance, Information Systems, Investor Relations and more. They currently employ over 500 employees in McHenry County. With an aggressive R & D program, they invest three percent of their sales back into our R&D and innovation efforts to make it possible to conveniently dispense shampoo, perfume, bottled water, ketchup, cleaning spray and pharmaceuticals, along with hundreds of other products that people rely on each year.
MCEDC congratulates all of our business finalists their leadership and our 2018 Business Champions Precision Waterjet, Dougherty Enterprises, FLOCON INC., Follett School Solutions and AptarGroup.
{besps}buschamps2018|width=600|height=408{/besps}