CONGRATULATIONS TO THE 2019 BUSINESS CHAMPION FINALISTS!
McHenry County EDC is proud to announce the 2019 Business Champion Finalists.
Here are the finalists in each of the following categories:
24 or less employees: Fox Tool & Manufacturing Inc. Woodstock – Bio Bidet, Crystal Lake, – BTM Industries, Woodstock – Ethereal Confections, Woodstock.
25 to 100 employees

: Autotrol Corporation, Crystal Lake – Burnex Corporation, Ringwood – Chicago Plastics, Crystal Lake – Sequoia Automatic, Inc., Crystal Lake – Alumitank, Harvard – Intermatic, Spring Grove.

Over 100 employees

: True Value LLC, Harvard – TEQ, Huntley – Union Special Corporation, Huntley – Corporate Disk, McHenry – American Ad Bag, Woodstock – Associated Electrical, Woodstock

Over 300 employees

: Camfil USA, Inc., Crystal Lake – Thomson Linear, Marengo
In its twelfth year, MCEDC recognizes outstanding companies who have made a positive impact on McHenry County's economy and are exceptional primary sector employers. The 2019 nominations were submitted to MCEDC by local business leaders and will be judged by executives from outside of the county.
The finalists will be recognized and introduced during the MCEDC Annual Dinner Tuesday, November 5, 2019 at the Holiday Inn in Crystal Lake. The 2019 Business Champions Award Recipients will be announced at the dinner and presented their awards by the keynote speaker., American futurist and celebrity speaker Thomas Frey.
Jim McConoughey, MCEDC President stated "MCEDC looks forward to adding the 2019 Award recipients to the prestigious list of McHenry County Business Champions: Precision Waterjet Inc., Dougherty Enterprises Inc., Flocon Inc., Follett Solutions, and Aptar, in 2018; Utility Business Media, Miller Formless, Richardson Farms, H.S. Crocker Brake Parts, Inc. in 2017; Heartland Cabinet, JA Frate, Jessup Manufacturing, Fabrik Molded Plastics, Centegra Health System in 2016; CIDEAS, Matrix IV, Black Diamond Plumbing & Mechanical, Home State Bank, Intren, Sage Products in 2015; Radicom, Tegel Design, Mac Automation, Metalmaster Roofmaster, Claussen Pickles and Charter DuraBar in 2014, Phoenix Woodworking, Advanced Flexible Composites, Watlow and Covidien in 2013; Chroma Corporation, All-Rite Spring, Impact Plastics in 2012; Other World Computing, Dordan Manufacturing, Joule Technologies in 2011; Scot Forge, Jan Air, Astro Craft in 2010;  Medela, Millennium Electronics, Stan's Office Technologies in 2009; Pioneer Center for Human Services, Prairie Ridge Media/McHenry County Living, & New Concepts Development Corporation/Other World Computing in 2008) are all exceptional primary employers and valuable corporate citizens. We look forward to adding to this prestigious list of McHenry County employers".
For information on registering for the November 5th MCEDC Annual Dinner & Awards Presentation, please visit our website: w.mchenrycounyedc.com or call 815.893.0895.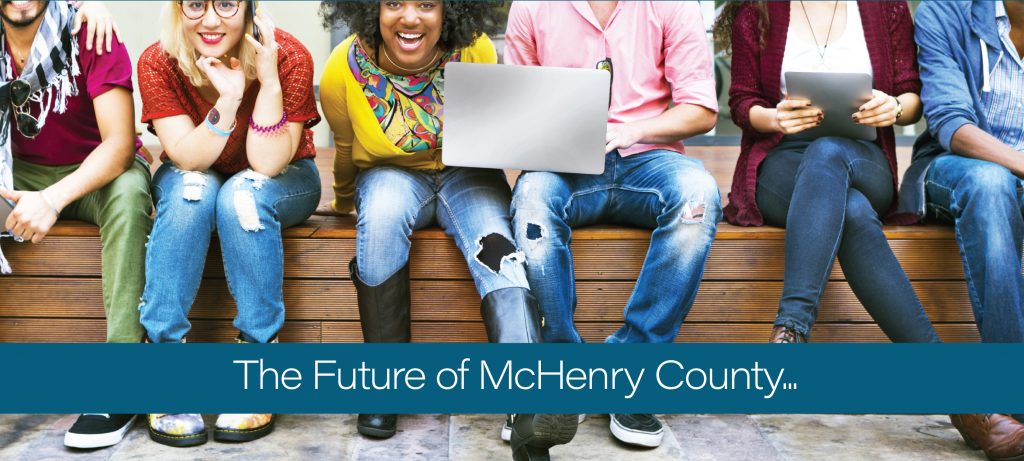 See the future NOW!
Attend the McHenry County EDC
Annual Dinner on
Tuesday, November 5th
The Holiday Inn, Crystal Lake, IL
Networking – 5 PM
Dinner – 6 PM
Keynote speaker:
Thomas Frey, renown Architect of the Future
A look ahead at the future workplace for
our children and their children
"60% of the best jobs in the next 10 years
have not even been invented yet!"
Single Ticket: $125
Table of 8: $800
Investor/Membership Sponsorships: $1500
RSVP by October 21
Call or email Jean Schober to make your reservation.
To register online click here.
JSchober@MCEDC.com | 815-893-0895
Thank you to our Presenting Sponsors
Thank you to our Premier Sponsors